Every year, for more than 50 years, 50,000 professionals in the commercial interior design
industry gather at Merchandise Mart in Chicago for NeoCon.
The Merchandise Mart or "The Mart" as Chicago 'ins call it, is the "world's largest commercial
building, largest wholesale design center and one of Chicago's premier international business
locations."
The annual NeoCon event serves as the mecca for innovative design, highlighting thousands of
new products and services in categories such as furniture, textiles, flooring, interior building
products and technology.
HMTX Exhibiting at NeoCon 2021
Nimlok Chicago has been fortunate to have a ten-year relationship with Metroflor Corporation,
one of the HMTX Industries brands. This year HMTX choose to have a permanent presence in
The Mart with a 1,000 square foot showroom on 11 th floor. The space would be used to
spotlight all their brands; Aspecta, Teknoflor, Metroflor, Halstead and Vertex.
From a marketing perspective each brand lives independently and has their own customer
base. What the brands share are the core values of integrity, sustainability, transparency and
most importantly, "People Before Profits".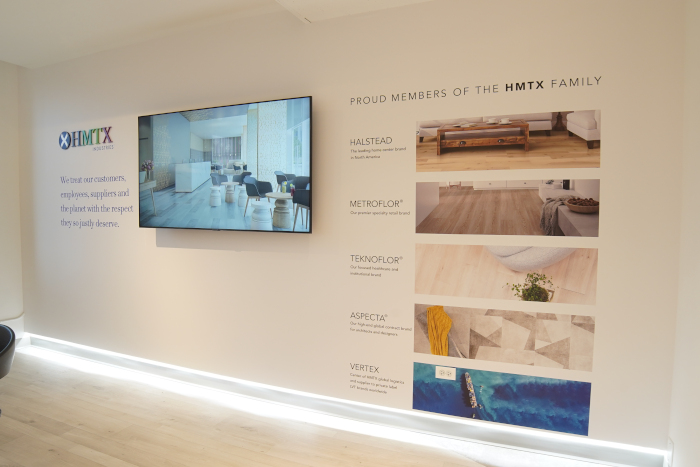 The Goal
The goal at NeoCon 2021 was to highlight two of the HMTX brands, Teknoflor and Aspecta,
while also tying in their core values.
"It's in our DNA"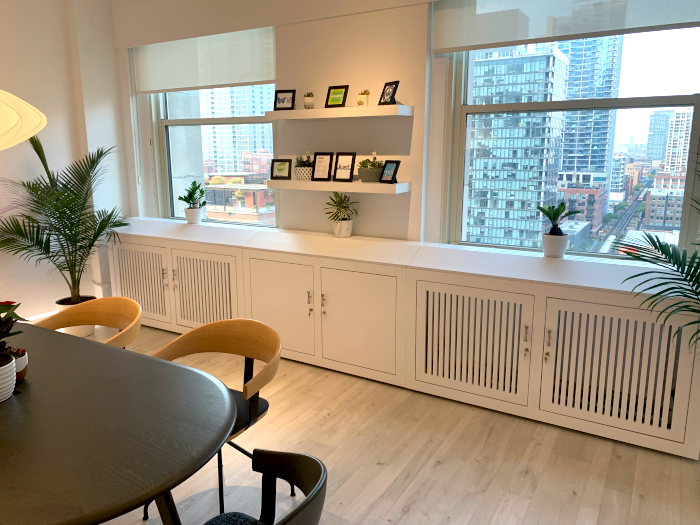 The layout for the showroom was strategic. The project consisted of multidisciplinary teams of
flooring professionals, electricians, carpenters, painters and installers.
The design elements of the space were subtle, letting the flooring speak for itself. The clean
lines, earth tone samples and baseboard lighting elements set the mood of the entire space.
The Challenges
The first challenge was creating a fantastic experience from a show room that had exposed
electrical wires, an uneven concrete floor, and no storage space, in 6 weeks!
The second challenge was leveling the floor, and for Director of Corporate Communications
Tiffany Davis, "The flooring had to be perfect." So flooring partner PCI Flortech poured a new
floor, leveled it to perfection and installed the HMTX flooring.
With a rapidly approaching October 1 st deadline, Peter Crouch and the Nimlok Chicago team
stayed on course creating custom rollaway cabinetry to cover the unsightly radiators,
collaborated with contractors to frame and drywall, directed electricians and even added two
storage closets.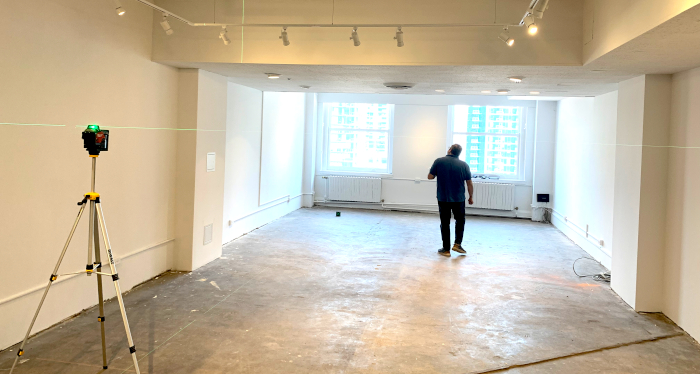 Result
"The biggest surprise was walking into the show room, it actually looked bigger than I
expected," said Davis.
A popular feature was the large interactive samples tray. Visitors enjoyed the sensory aspect of
popping out product samples to feel and hold.
The balance of beauty, functionality, and care for the environment are apparent the moment
you enter. Attendees were able to clearly see product innovation and quality, while
demonstrating the brands dedication to sustainability. This included declare labels that
provided product ingredients.
Davis said her favorite feature was the lighting effects, "Something we will ramp up for future
shows." Along with adding sound barriers.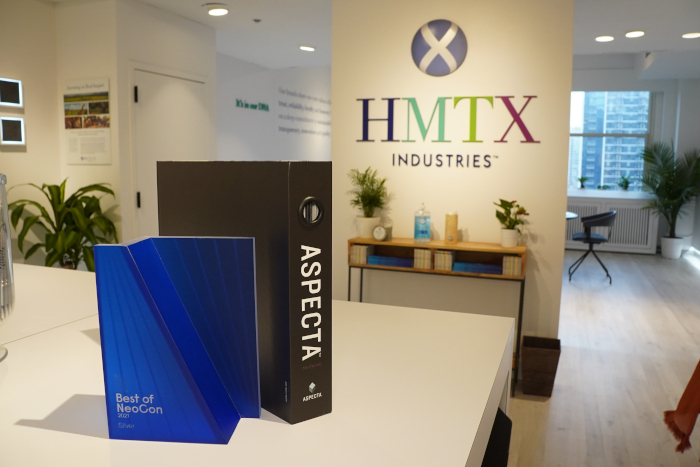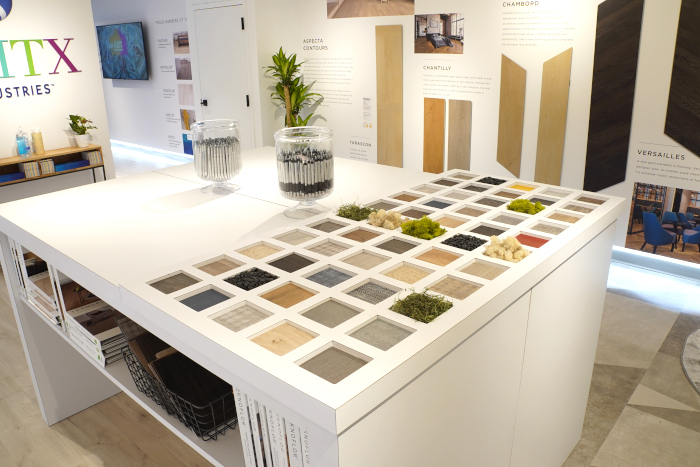 Conclusion
Due to Covid and capacity restrictions, HMTX didn't have great expectations for Neocon 2021.
Davis was told attendance would be down about 40% from 2019. She thought this would
probably be a trial run for Neocon 2022.
Even with only 20,000 attending NeoCon this year, the lead count and quality were better than
expected. Attendees were excited that HMTX had their own showroom. It offered the perfect
presentation of the brands to new and existing customers.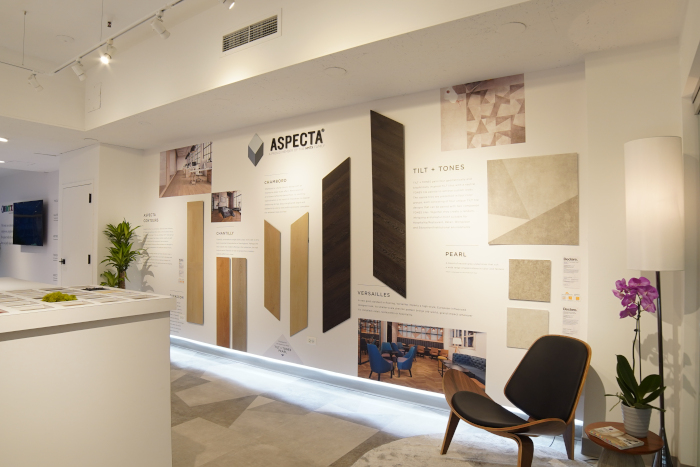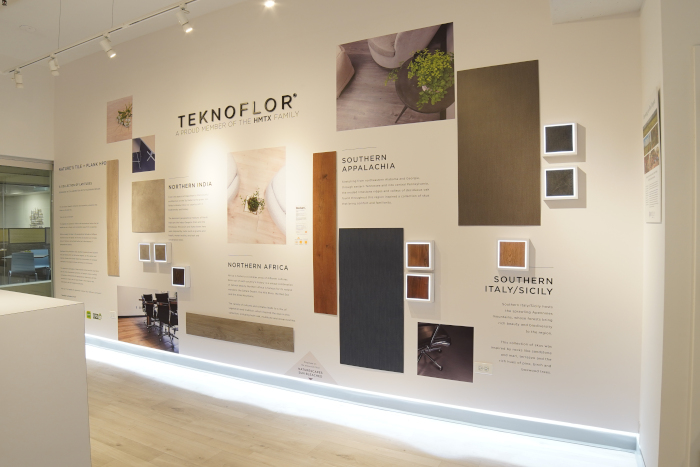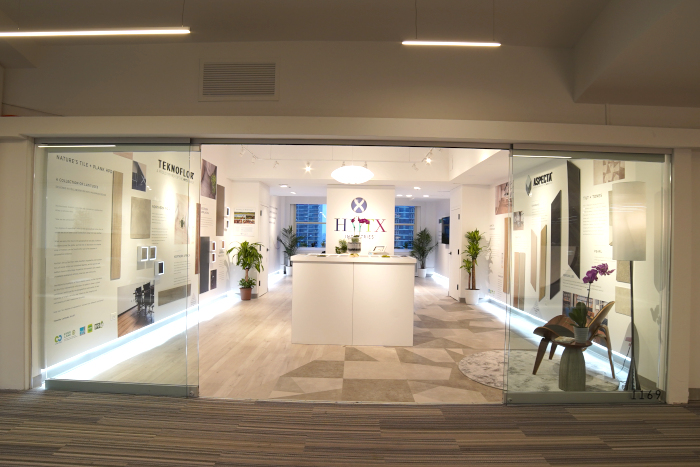 Why Nimlok Chicago
Nimlok Chicago partnered with HMTX to create a showroom with an environment
conducive to deepening relationships with clients and prospects. The result was an
open, friendly design that does justice to the brands and their core values.
Designing and fabricating showrooms, office environments or tradeshow exhibits that
exceed client expectations is part of our overall goal. We provide clients with the most
innovative design elements, logistics coordination and installation services available. On
time and on budget.