Design trends. Technology innovations. Engagement strategies. Put the best of them together, and you have the ingredients for making a lasting impression on your audience. Since we've been simplifying trade show success since 1970, we've found the year's biggest trends and put them together in one little blog post. All you have to do to become an expert exhibitor, marketer, and creative leader?
1. Take advantage of virtual reality
When it comes to driving sales, the year is here to take advantage of virtual reality. No longer just an entertainment tool, virtual reality allows your market to interact with your brand in powerful new ways. Virtual walkthroughs using technologies like Oculus Rift, anyone?
2. Let your show live 24/7
An event starts and ends well before the show. Smart marketers plan year-round content that lives both online and in the minds of the attendees well after the event. Think blogs, quarterly newsletters, and in-app social features. According to Exhibit City News, "Social media can serve as a tool to provide exhibitors and attendees with appropriate contacts before, during, and after an event." Some marketers are even taking their show on the road year-round.
3. Reconsider talent
Live entertainment can boost your brand message. But who needs a famous rock star to work an event when you can have a local musician or a YouTube performer with potential? In today's reputation economy, talent can come from where you least expect it. Smart marketers know where to look—some are even considering internal employees or their CEOs.
4. Bring in the out
One of the best places to find design inspiration? Out in the world. Commission an artist to create a booth design. See what elements you can incorporate into your show from your host city's architecture. Or leave the trade show floor and engage with your audience in new ways. Walking tours and yoga sessions are popular. According to BizBash, Jeff Hirouji, lead designer at DisplayWorks, is using hotel ballrooms to get his clients away from the bustle of the show floor.
5. Tell a story
Whether it's delivered in a six-second Vine video or in a 360-degree theater, storytelling is key to making a lasting impression. Create content that captures an audience, and you'll have your own success story to tell.
6. Experiment with the technology
Event and trade show programs are high-tech engagements. Embrace the newest innovations in technology and you'll make the most of your marketing power. Whether you scan badges at each point of a visitor's engagement to take attendees down a specific path or simply use digital instead of traditional signage, your audience will recognize you as a leader in more ways than one. Technologies like LEDs can even be budget boosters: Business2Community blog says LEDs save money in the long run, not to mention are good for the environment.
7. Engage your audience
There's a reason engagement marketing is a buzzword these days. Audiences no longer want to be spoken to; they want to be part of the conversation. According to Tom Yurkin, experience designer, exhibiting is about "creating a forum for communication and interaction." Create two-way, personal interactions instead of one-way, general marketing and you'll be rewarded with greater sales and higher profits.
8. Be bold
Strong color. Clean, modern design. Deliver these things with backlit panels and you'll add even more strength to your messaging. And don't forget that being bold applies to more than just appealing to what people see. Speak boldly to all five senses (add the scent of cookies or live music?) and your results will be strong too.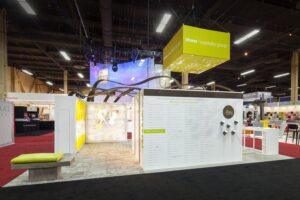 9. Be natural
Your brand should always be true to itself. And now there's another trend in being natural too—by using earthy materials like reclaimed wood. According to Nico Ueberholz, CEO of Ueberholz GmbH, "Organic shapes that have grown over time are the perfect templates for design."
10. Make investments
After years of cost cutting, companies are making up for it with big investments, creating budgets for developing solid apps, tech-focused design, improving data security, and more. According to last year's annual BtoB Marketing Outlook Survey, events will see the second largest growth in media spending after digital.
What trends are capturing your attention this year?