If your company is holding back on exhibiting because of its small budget—think again. There are plenty of ways to make an impact at your next event, even with a small trade show booth. Through exhibit layout, networking, and marketing promotions, you can catapult your brand ahead of the competition without breaking the bank.
1. Start with an efficient design
There are two things to keep in mind when designing a trade show booth: your audience and your product/service. Remember to showcase your brand while simultaneously leaving room to interact with your guests. It's important for your exhibit to look good, but looks won't matter if the design isn't also functional.
Ask yourself these questions to help guide the design of your booth:
How will I display my products?
How will I interact with the audience?
How will my exhibit draw attention?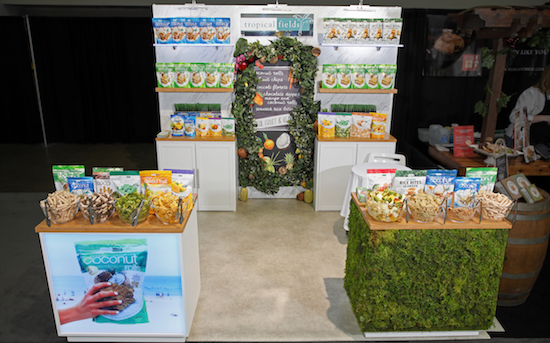 Whatever your brand's product or service is, show it off. Your trade show exhibit's design should focus on areas to display and demo your product to attendees. A demo station doesn't require much space but communicates your brand quickly and efficiently. Select eye-catching display cases, stands, or shelving as well to show off your products from every angle.
In a small exhibit, it really is the little things that matter. Focus on the details that draw the crowd to your space. Grab the audience's attention from across the room with stunning lighting, which can be integrated into countless exhibit components, including shelving, at the reception counter, or overhead. Opt for backlit panels on your backwall to make your graphics "pop" or incorporate lighting into your flooring for an extra eye-catching element.
2. Grow your network
The trade show industry is tough, but that doesn't mean you're on your own. Make friends within your industry and related industries to create a distinct network. Establish partnerships with other brands to barter, trade, or cross-promote within one another's exhibits.
Let's say your company makes espresso machines. It can be difficult to gather significant leads based on the product alone, and the competition is vast. This is when your network can come in handy. There might be a coffee company in your network that is willing to trade some of their coffee products for one of your brand's machines. With this arrangement, both of your brands can demo your products in your respective booths in conjunction with one another's goods without having to spend additional money. Best of all, your product is demoed at two exhibits instead of one.  
3. Promote, promote, promote
Marketing doesn't begin when attendees walk up to your trade show booth—it begins the second you register your brand for the show. The audience likely won't realize the size of your exhibit until the day of the event, so drum up some "buzz" with your pre-show promotions. Offer your client database a personal gift or show discount for booking a meeting.
Give your clients a heads up about any contests that will be held at your booth. If you're giving away something of significant value, make sure your clients know about it. They'll be sure to pass the news along and create word-of-mouth buzz around your brand.
---
Don't know where to start?
Download our free Beginner to Winner E-Book for a five-step plan for becoming an expert exhibitor. Our guide includes a handy timeline for exhibit planning, guidelines for selecting an exhibit partner, and tips for developing an effective event marketing plan.