Companies are increasingly taking more initiatives to influence social and environmental change. While sustainable practices often take a lot of effort, the long-term benefits stretch far beyond just reducing your carbon footprint. A recent study by the National Marketing Institute found that consumers are 58% more likely to purchase from a company that is mindful of its impact on the environment. Putting these practices into action at your next trade show exhibit can make a big difference for your brand's marketability and its bottom line.
1. Keep it light
Consider using lightweight materials in your trade show exhibit. This will not only save money on shipping costs, but it will also help reduce some of the pollution associated with transport. Opt for materials such as fabric and aluminum. Nimlok Chicago's custom modular exhibits are great options for lightweight, recyclable displays.
2. Rent locally
Depending on the location of your trade show, there may be a local Nimlok location that can provide rental exhibits that suit your needs. You can rent an entire exhibit, or just certain components that you require. It saves money on shipping and reduces the carbon footprint that long-distance transport creates. Rental exhibit parts can be reused, making them an excellent and eco-friendly choice for exhibitors.
3. When possible, reuse
Reuse a past booth if it's still in good shape. To avoid looking outdated, the structure can be updated by replacing certain components such as graphics, furniture, and carpeting. One of our seasoned account executives recently published a guide for making budget-friendly changes to your trade show exhibit without redesigning the entire structure.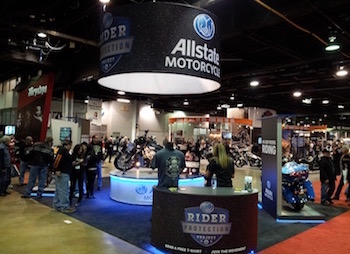 4. Be (energy) efficient
Replace lighting and other appliances with energy efficient alternatives. Look for the Energy Star logo on product packaging to help you determine which are more environmentally conscious.
5. Invest in your booth
One of the best ways to prolong the life of your trade show exhibit is to invest in it. Use durable, high-quality materials that will last through multiple uses. It may initially cost a little extra, but your sturdier exhibit won't have to be trashed (and replaced!) as often, saving time and money in the long run.
6. Give back with your exhibit
Find ways to recycle your booth materials to avoid sending them to the landfill. Would the structure be suitable to display in your company's showroom? Or perhaps you can reuse its carpeting in a subsequent trade show exhibit.
If recycling your booth within your own organization isn't viable, consider donating its materials to local charities. This year's CES set a precedent with its sustainability program, by giving away over 12,000 pounds of the show's leftover materials to its community. Initiatives like these are becoming increasingly common, so check with your event venue to see if it has a similar program in place for exhibitors.
7. Save reusable materials
Reuse packing and shipping materials like bubble wrap, foam padding, and cardboard. This is beneficial to both the environment and your company's bottom line. If reusing is not an option, remember that cardboard is 100% recyclable.
8. Go digital
Convert your marketing materials to digital. Not only does this modernize your trade show exhibit, but it also eliminates paper waste. Eliminate the need for pamphlets by hanging up monitors that can display information in an efficient and more eye-catching way. Tablets are an alternative option and offer visitors the opportunity to quickly sign up under your company's contact list.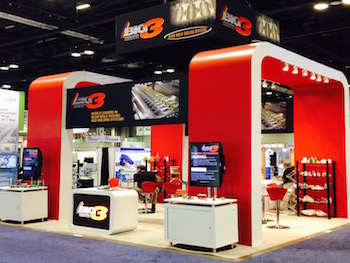 9. Print responsibly
If you must print, try to do so on sustainable or recycled material. Some companies even print with vegetable-based ink that is environmentally conscious and produces vivid, high-quality images.
10. Sustainable swag
Opt for eco-friendly swag to give out at your trade show exhibit. Options include reusable water bottles, bamboo/hemp shirts, reusable bags, and pens/pencils/notebooks made from sustainable or recycled materials. There are a wide variety of options available—be as creative as you want! Your visitors are likely to appreciate your efforts, too.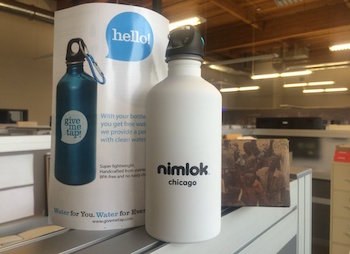 The best way to implement sustainable practices in your trade show plan is to think long-term. When planning for your next show, consider what is doable and within budget for your booth. Remember: even the littlest changes make a positive difference.