One of the most important assets an exhibitor can have at a trade show is attention. That's why it's crucial for brands to provide unique engagement opportunities to impress attendees, interact with their audience, and ultimately, win over their business. Here are four trade show trends that use social media, cutting edge technology, and some creativity to "wow" attendees, leaving memorable impressions that'll last well after the show. Skip the usual, be extraordinary.
Budget Friendly
Tweet wall
Social media is no longer a fad, it's a lifestyle. Twitter is one of the most popular social media platforms for promoting events—and trade shows are no exception. Many brands have used this as an interactive tool to engage attendees and create "buzz" around their brand or exhibit.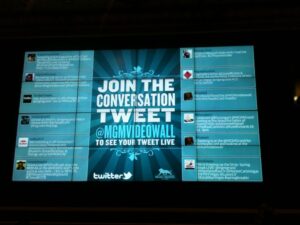 Even if a guest doesn't have a Twitter handle, their company likely does. Guests will see their tweet displayed on a monitor or projected onto a wall when the tweet is accompanied by your chosen hashtag. For this simple, inexpensive experience, start by creating a relevant hashtag separate from your Twitter handle and the event name. This will omit any confusion between mentions and hashtags. Don't forget to double-check that the hashtag hasn't been used by someone else—you want it to be unique to your event.
Days (or even weeks) before the event, advertise the hashtag to the public and network with others that will be at the event. It will give you a better chance of more people seeing the hashtag and participating in your tweet wall. On the day of the event, designate a team member to watch over the incoming tweets. Although there are several apps that can filter posts with certain hashtags, you will want to validate all tweets are legitimate before displaying them on your wall.
You will need:
Custom hashtag
Monitor or projector
A "Tweet Wall" app
Extra staff (as needed)

Snapchat filter
We are obsessed with taking pictures to capture our memories and to let others know our whereabouts. Create a Snapchat geofilter to reach people in the general area of the trade show and, in turn, they will share the "snap" with people outside of the event—generating fun, visual "buzz" around your event.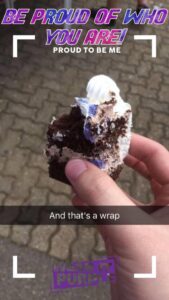 Designing a geofilter is simple. Begin by uploading an approved logo or design within the accurate dimensions to the Snapchat website. You'll then have to choose the area and duration that you'd like the filter to run. There is a minimum of 20,000 sq. feet and one hour of run time. A typical filter costs $5 to run each hour, so the longer it runs, the more expensive it will be.
Draw a crowd to your exhibit with enticing backdrops and creative props. Create backdrops that visually represent your brand and give guests fun ideas for snaps—it will further encourage the use of your branded filter. Don't forget to promote your Snapchat filter with signage at your exhibit.
You will need:
Design for your filter
Backdrop
Props

Splurge
Interactive projections
Interactive projectors and tables are an entertaining way to communicate your brand and get the audience involved. These giant touch screens can be set up to display on a wall, floor, or any other hard surface.
There's also the option for specially made interactive tables. Display your logo in a creative way, show a demo, or create a game or contest. You can even display a tweet wall with this method and let guests physically flip through the posts. The possibilities are endless!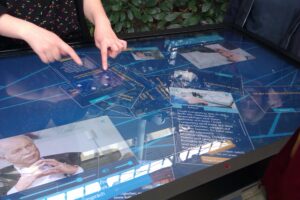 A fully equipped interactive projection for wall, floor, or table will begin at around $6,000. It's a worthy investment for companies that plan on using this tool at multiple events without wasting time on installation.
Virtual reality
We've been crazy about virtual reality for a while now—and it's well worth the hype.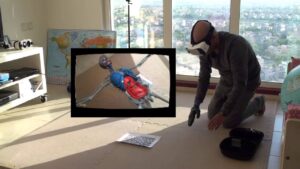 Since many concepts are too large or complex to exhibit at a show, VR allows brands to create immersive experiences in smaller spaces. Store fronts, landscapes, even entire manufacturing facilities can be experienced through the virtual headsets. Have plenty of staff on hand to assist guests with the headset and keep other attendees engaged as they wait for their turn. It can be an ideal opportunity to pitch and offer more information about your company.
Virtual reality, however, does not come cheap. You'll need a high-end VR or gaming computer with an added desktop graphics card, which begins at around $1,000. This will ensure smooth, realistic graphics. Additionally, a quality headset ranges between $600-$800. Fortunately, the one-time costs will bring endless excitement to your exhibit.
You will need:
High-end VR or gaming computer
Desktop graphics card
High-quality VR headset

Step outside of the box
Break free of the confines of "how it's always been done." Guests and prospective clients will greatly appreciate the risks you take. When planning a trade show, remember to budget accordingly and leave a little extra room to try out some of these experiences. As always, we're excited to collaborate with you to help create unique and memorable experiences for your guests at future events. Contact us today for your free exhibit consultation.