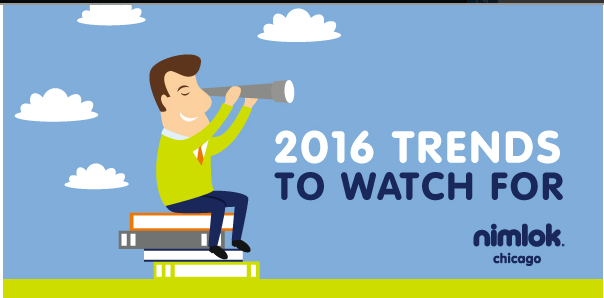 The new year has just begun and we're already seeing an influx of fresh design trends that'll shape the way both brands and consumers perceive and connect with one another. These top 5 trends will be central to 2016—and we've got ways to bring them into your brand's space.
Bright, yet gentle colors.
Optimism and tranquility are projected to be major influences in 2016. That's why it was no surprise that Pantone's top ten colors for the new year included bright, yet gentle hues. The soothing nature of Rose Quartz conveys a sense of composure, yet Buttercup offers a bright, sunny contrast to give the viewer a sense of positivity. Another of Pantone's colors of the year reflects these overarching themes even with its name—Serenity.
Minimalism and simplicity.
Going along with the theme of inner calm and peace, another trend that's rising to the surface this year is the sense of simplicity. Minimalism, or the "less is more" mindset, is becoming increasingly popular. This gives way to bold visual designs that use emptiness to create tension and drama. This is notably a technique used in advertising, but can also be successfully incorporated into a trade show display. Companies have the opportunity to convey their brand with less copy and a quick visual read.
This trend also uses pops of color against blank or solid backgrounds. The design not only offers a dramatic yet simple contrast, but also draws the audience's attention.
Integrated technology.
In 2016, we have accepted the fact that technology is an extension of ourselves, and thus makes us more human. It is optimistic and not only helps us with tasks, but also with self-improvement. Smart watches and other wearable technology allow us to be more self-aware in terms of our physiology, but also help us stay socially connected with one another.
This year's Consumer Electronics Show proved that wearable tech is here to stay for the foreseeable future—for both companies and consumers alike. Gamers are likely to enjoy the affordability of new consumer-friendly virtual technology, while companies are looking to use it in their marketing efforts. There are several ways in which brands have even used virtual technology in trade show displays to demonstrate their products or services.
Bringing the outdoors in.
As a reflection of the surplus in integrated tech, it is interesting to find that the appeal of the outdoors is an emerging trend as well. The more we are plugged in, the more we also tend to crave real world experiences outside of cyberspace. Earthy color palettes, particularly metallics, are resurfacing in interior spaces and displays. Gritty and distressed textures are also becoming increasingly sought after along with organic, undefined shapes. We are even seeing an increase of plants and flowers being incorporated into various trade show displays. Again, this ties into the sense of bringing natural elements into a space that is otherwise fixed and manufactured. These outdoor elements are appealing because they help to refresh and calm us—once again reflecting on the push for serenity in 2016.
Sustainability.
Finally, our thirst for nature is propelling the movement for sustainability. Going green has been on the minds of many for several years now, but it is being propelled even further in 2016. The concept of "spending with purpose" is evolving and we are now more open to spending extra money in order to make a positive impact on the planet.  Many brands are incorporating recycled, renewable, and toxin-free materials into their spaces. The development and use of "green technology" is growing, as is the demand for energy efficiency.
As with all of the previous trends, this is one that can be readily seen on the trade show floor as well. Companies are opting for digital resources in their booths rather than printed material. Monitors, lighting, and appliances are also being replaced with more energy efficient options.
2016 is projected to be a year of optimism, tranquility, and purpose. Technology is taking over, yet the presence of nature is still something we both cherish and crave. It is without a doubt that these elements will continue to shape design in the months to come.